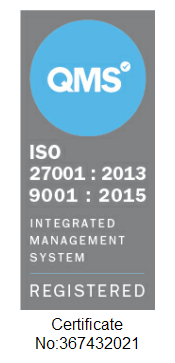 In May 2021 Altitude Angel achieved ISO 27001 and 9001 certifications through its Integrated Management System (IMS), the first UTM company to do so.
ISO certifications are internationally recognised standards which ensure organisations meet industry best practice and are continually improved to meet the needs of customers.
Attaining ISO 27001 reflects Altitude Angel's systematic and rigorous approach to managing sensitive company and customer information and the diligent processes in place to minimise risk of security issues, and the consistency of the service and solutions delivered to clients.
ISO 9001 certification demonstrates Altitude Angel products and services meet the needs of customers through an effective quality management system. Attaining this certification reflects our process-based approach, strong customer focus, and underpins our commitment to maintaining these high standards.
Altitude Angel's IMS Policy is available on request to all relevant external interested parties.
Cyber Essentials Certification

Cyber Essentials is an effective, Government-backed scheme that certifies that Altitude Angel has measures in place against a whole range of cyber attacks.
You can be reassured that we continuously work to secure our IT systems and data against cyber attack.